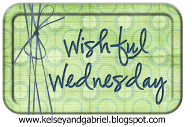 I thought I would play along in Wishful Wednesday and you can join in too over at
The Seattle Smith's
'I wish' I had...Jessica Simpson Hair/ Hairstyle!

As you probably have heard me mention before I love Jessica Simpson and I also love her hair and would love to have it! I also would not mind having her body and hair stylist either!

I love her long hair!

I love her shot hair!

And I love it when she has it pulled up too!

This was hard finding pictures on the internet of her hair b/c I like all of them!